We're Getting Mutants in the MCU - The Loop
Play Sound
There are 7 known taggers in Sludge Life. Each one has it's own "theme song" playing on a radio nearby their usual locations. You can find their tags all over the map and as you spray more tags yourself you eventually gain enough reputation to do duos (also known as combos) with each tagger, except for King Eyes.
Ghost

[

]
Ghost is the player character, and while Ghost is never visible in the game it can be assumed they are human because in the Weird Ending their eyes are pulled out and they are regular human eyes. Ghost resides in a shipping crate and according to Big Mud, Ghost speaks mainly—if not only—Sludge. His theme song is "Ghost Phone Home." His hitbox object is called "Capsule."
Hans

[

]
A large handed human. His combo requires 20 tags. His theme song is "Ll Cool Hans." He gives you access to the glider.
Quotes

[

]
Before Combo

[

]
"Yo GHOST You want that GLIDER? It could come in... handy. You can GLIDE to all kinds of crazy SPOTS whyle all the CLOPS are on STRIKE."
"Reak talk tho GHOST, you're the most down of all these TAGGERS... you just wanna BOMB yo, no toxic Tagsculinity, no Politics. Sorry tho, this SLUDGE LIFE gets me VEXED sometimes."
"Anyway, I been working on this MASSIVE MIDDLE FINGER you can only see it from the SKY! I'll show you when it's done yo. Come back after you catch wreck and we can COMBO this garbage GLUG ad!"
"Easy, GHOST"

In the good ending of the game, you can see the giant middle finger tag that he mentioned on the basketball court.
After Combo

[

]
"Yo GHOST, this is the illest COMBO ever Yo! PEACE 2 ALL R HATERS!"
Gallery

[

]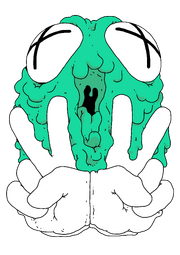 Mosca

[

]
Mosca is a humanoid Fly tagger, his combo requires 30 tags, His theme song is "Mosca mosca mosca"
Quotes

[

]
"Yo GHOST
You looking for some fresh SPOTS to TAG?
I got one side but you can BOMB the other." "Today is the day Yo, all of GLUG is on STRIKE!
NO CLOPS, so TAG it ALL" "You should boost a CAMERA tho Yo, so you can scope SPOTS easy.
I think I saw a CAMERA right below us, you should go grab that real quick.
Cause there are SPOTS all over this ugly ass island.
I even hit a few SPOTS all the way across the island behing the GLUG TOWER." "I'm just gonna chill for a minute tho, catch this BUZZ then go BOMB.
Roll back after you TAG more SPOTS, and we can kill a COMBO toghether" "Easy, GHOST"
Quotes after combo

[

]
"For real tho GHOST, this COMBO is MONTRUOUS"

Gallery

[

]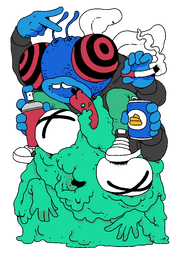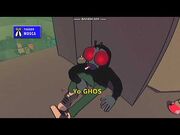 Double Double

[

]
Two human sisters with a cat aesthetic, each one missing one eye. Their combo requires 45 tags. They "sold out" to Glug and did paintings for the CEO instead of tagging for the love of it. Both reside in room 207 in the apartments. Their theme song is "Double Double"
Quotes (right eye missing)

[

]
"I see you out there with your lame ass TAGS.
You're that toy TAGGING that Green Pimple everywhere.
Or is it a Cough Drop?
Or a Butt Wart?"
"Go BUFF yourself GHOST.
I said GO BUFF YOURSELF!"

Quotes (left eye missing)

[

]
"Are you called GHOST because no one believes in you?
Or is it cause I can see right through you?
Or is it cause you are dead to me?
BOO!"
"Go BUFF yourself GHOST.
I said GO BUFF YOURSELF!"
Quotes after combo (right eye missing)

[

]
"This COMBO is epic G, I can't belive you used to be such a TOY."

Quotes after combo (left eye missing)

[

]
Gallery

[

]
"We been so busy $ELLING OUT, I almost forgot what the real thing feels like."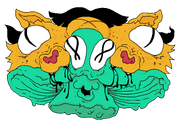 Uzzi

[

]
Goblin tagger. His combo requires 60 tags. His theme song is "Uzzi Does it"
Quotes

[

]
"Ghost! Doesn't it feel like this hole dump is about to crumble?" "I LOVE IT! I wanna keep TAGGIN while it all topples." "You ever peep the CEO's escape pod stashed on top of his tower? I've been scoping it 4 forever, only way up there must be throught his office." "I'm good tho, it's SLUDGE LIFE 4 EVER 4 ME!
Besides, I bet that the rest of the world is way worse than this." "You gotta go add all your anger to the anarchy G, then roll back and we can all go with a BANG!" "Easy G!"
Quotes after combo

[

]
"That's what's up GHOST...
I wanna see every inch of this island destroyed by NOISE like this!"

Gallery

[

]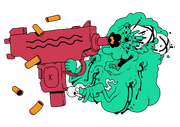 Tia

[

]
Female human tagger. One of the oldest along with King Eyes. Her combo requires 75 tags. Her theme song is "Tia Knows Best"
Quotes

[

]
"So you're young GHOST then huh?" "Come back when you earn your stripes, and I'll take you to school."
Quotes after combo

[

]
"Look youngin, th TAGS always wanna dance with your paint... you just gotta get your hand outta the way."
"You know I'm the oldest TAGGER in this pile of pipes...
me and KING EYES that is." "We started TAGGING toghether, we were one and the same...
but with time his REP lust just started to consume him.
He wasn't doing it for LOVE anymore, he was just doing it for the MORE
and MORE and MORE." "Then one day, something just snapped, and he ripped out his own EYES to spite his REP...
at that point I had to pretty much stop hanging out with the dude.
My Therapist says, I gotta draw a line with friends somewhere, and ripping out your own EYES seems like a reasonable place to start" "I guess the lesson here is: Does life really need to be that long?
I like feel like I like my games, when it stops being fun, you just quit...
and try to leave a positive review."

Tia doesn't have a name tag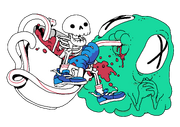 King Eyes

[

]
Old bearded tagger wearing a blindfold. The most prolific and successful of them all. He became too focused on getting more tags instead of the love of tagging, which is a direct warning to the player of the game that if we focus too much on getting all 100 tags we might lose enjoyment of it. If the player talks to King Eyes he gives them the Vandal eyes. Once the player gets all 100 tags he disappears and the player can take his place to get the Weird Ending. His Theme music is "King Eyes: Sad Boy II"
Quotes
[
]
"My eyes are yours... will yours be mine? We shall see."
"Come back when you are KING, for my crown."
Big Mud
[
]
Big Mud has stated that he formerly was a Tagger although he has since stopped tagging and are pursuing music instead, though he still apreciates good tags and supports the movement against the government. Big Mud does not have a designated picture tag although he does have a nametag that can be seen some places on the map.
Quotes

[

]
For Quotes see Big Mud
Gallery

[

]